Clients for ShieldTags
Printing can be done on the product label, the packaging or even on the product itself (leather printing, for example). ShieldTags provides the manufacturer with maximum traceability of each unit from the production process itself (internal or external), distribution tracking (logistics, point of sale) and sales process (including customer data fulfilling a minimum of Data Protection).
Examples and utilities
Validation of originals
For products that can be copied.
It gives added value to the product purchase
For the luxury industry (leather goods, fashion, accessories…)
Limit of readings per UIC.
Readings Geolocation.
A code that could have been copied can be blocked, so the reply on the app will be NOT VALID to the following readings.
---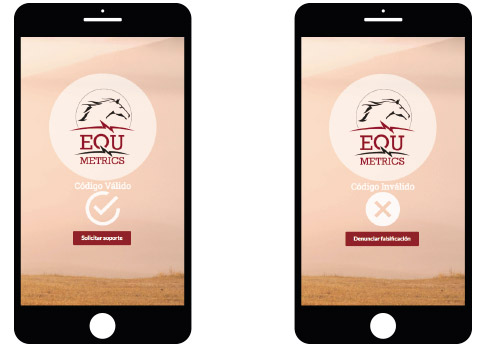 ---
Promotions and mass consumption campaigns
Marketing and re-marketing campaigns.
Use monitoring, location and consumer experience.
Loyalty through forms and bonuses in real time.
Gamification projects based on specific data.
Consumer contests and awards in real time.
---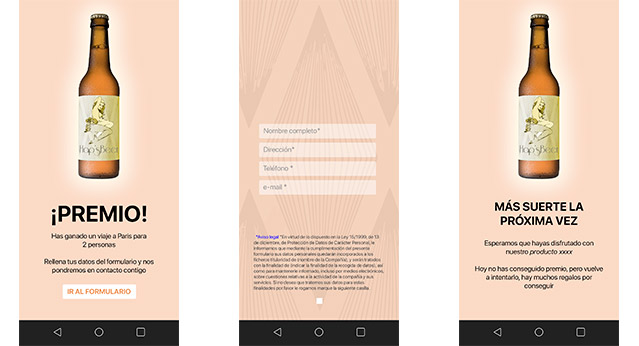 ---
Example of awards campaign managed with ShieldTags.
Award screen, winner's form and not awarded.
---
Events tickets and passes.
Entries and passes without visible codes, to improve the image of them.
Avoid copying, fraud and other types of abuse.
Access and pass acquisition identification.
Secured pass or entry sending in PDF if it is online sale.
Encode ad posters, enabling to access the ticket sales website.
To find the effective locations for promotional ads.
Verification of product characteristics.
Date of packaging, collection, shipment…
Place of production, collection, shipment…
Identification of operator, harvester, transporter…
Product benefits
For the client
Introduction of identification codes without interfering with the labeling image.
Possibility of control for each unit in internal logistics.
Data of individual producer, operator, time and date, place of production.
Extends external logistic control capabilities.
Control of assets and returnable materials.
Generation of Big Data in consumer behavior.
Create Augmented Reality and add individualized information remotely.
Focus on individualized marketing campaigns.
Create award and bonus campaigns.
Original units verification, and worldwide control of copies and replicas.
For the end user
Verification of original product.
Check freshness and product origin.
Possibility of obtaining extended data of each product unit.
Direct access and easy communication with the company.
Immediate awards and bonuses reception.
---